Hopper Bottom Truck Solutions
Hopper bottom trucking is just as essential as dry van and reefer freight.
Sometimes the trucking world forgets how critical the hopper freight industry is to keeping Americans supplied with all of our routine daily needs. Hopper Bottom trailers are very universal in what they can haul. Our trailers have the ability to haul grain, seed, meal, guts, coal, powder, etc. We have a fleet of trailers that we run across the country and especially across the Rocky Mountain region hauling all of these products.
Don't trust your hopper freight to just any one, choose a company that has specially trained drivers for the job.
One thing we love about hoppers is that it takes a little bit more experience and know-how from the company and the driver moving the product in order to transport this type of product efficiently. We enjoy the different challenges and logistics involved with transporting hopper freight across the country.
We would love to be your hopper solution. Contact us for more details on how we can make your life easier by moving your unique product.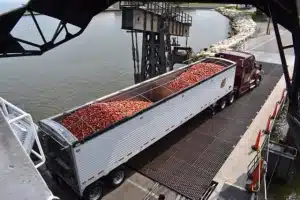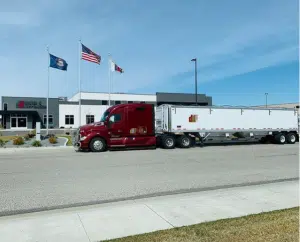 We not only have hopper bottoms, we also run belt trailers. Another specialized part of the industry. Belt trailers not only require good company and driver training, but it also needs to have a truck set up with the proper pumps in order to unload the product reliably.
When Mark Droubay created his trucking company back in 1984 he founded it on the principles of hard work, friendship, outstanding customer service, and love of trucks. After years of constantly applying those principles the company has grown to a small fleet that services much of Utah in a wide variety of trucking services. If you want to learn more about the services we provide please click the button below to see what else we do.
His trucking company has transported just about every category and type of product imaginable over the past 3 1/2 decades. And while we like to specialize in the more difficult parts of the trucking industry we are always up haul whatever product you need moved. It is our desire to help you have peace of mind and a worry-free experience every step of the way. We want to be a partner with you as we get your product moved. We want to be successful but we also want you to be successful. Double D Distribution has grown as their customers have grown. So we want to grow together and make something incredible happen as we help keep our great country truckin' along!
So give us a call or come see us at our location. You are also welcome to fill out our form to request our services. We are excited to get to work with you!