Crude Oil Trucking in Utah
Trucking crude oil in Utah requires special training, you need a trucking company you can trust!
With a rich source of crude oil in the Uintah Basin located in north east Utah we are experienced in trucking crude oil. Anyone who has hauled crude with a truck in Utah knows the challenges involved in transporting waxy crude. Our truck equipment is set up to pick up crude from a refinery or from a mountain top. We have all of the equipment to measure tanks, pump on the load, pump off the load, and delivery to the refineries or rail yards.
We can haul:
Sweet crude
Yellow crude
Black crude
Condensate
And most other crude oil derivatives
Starting back in the late 80's we would transport crude one direction and truck asphalt back the other direction. Now days oil technology has become much more sophisticated so both asphalt and crude need exclusive equipment to transport their products. Our experience transporting crude in the last decade includes our trucks going up into the Uintah Basin or Wyoming crude field and finding the wells on the dirt roads in the mountains or in the plains. Our truck drivers take the necessary measurements and pump on or top load the crude. We then deliver to the refineries or to the the rail yards using our trucks and oil gantrys to pump into rail cars. Wherever your crude oil is, we can help you move it.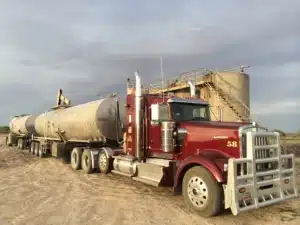 When Mark Droubay created his trucking company back in 1984 he founded it on the principles of hard work, friendship, outstanding customer service, and love of trucks. After years of constantly applying those principles the company has grown to a small fleet that services much of Utah in a wide variety of trucking services. If you want to learn more about the services we provide please click the button below to see what else we do.
His trucking company has transported just about every category and type of product imaginable over the past 3 1/2 decades. And while we like to specialize in the more difficult parts of the trucking industry we are always up haul whatever product you need moved. It is our desire to help you have peace of mind and a worry-free experience every step of the way. We want to be a partner with you as we get your product moved. We want to be successful but we also want you to be successful. Double D Distribution has grown as their customers have grown. So we want to grow together and make something incredible happen as we help keep our great country truckin' along!
So give us a call or come see us at our location. You are also welcome to fill out our form to request our services. We are excited to get to work with you!