Our Utah Trucking History
"Growing up I always figured I would either drive trucks or raise a dairy farm." -Mark Droubay
Double D plays an important role in Utah's trucking history, but it begins back when Mark Droubay was being raised on dairy farms in both Erda and Delta Utah. On the farm they had tractors and trucks and he loved them both. Learning to drive semi-trucks on the farm, at the age of 22 he purchased his very first truck in 1984, it was a 1979 Freightliner cab-over.
"I thought that someone would always be willing to pay me to haul something with my truck."
And that is exactly what he did, trucking mainly gravel and hay. In 1987 he began trucking for Steer Tank Lines and they asked him to deliver a truck load of asphalt oil. From that day forward he almost exclusively drove his truck hauling asphalt oil to hot mix plants in Salt Lake City.
In 1990, Steer Tank Lines decided to exit the asphalt industry. Mark then began trucking for the hot mix plants directly. He worked tirelessly from that point on to make sure his customers had all their liquid asphalt and emulsion trucking needs covered. Also, in 1990 he traded in his 1979 Freightliner in for a 1987 Kenworth T600. In 1992 he was able to purchase a second truck to help keep up with the growing construction industry in Utah. As asphalt construction in Utah grew so did his trucking company.
The trucking company has continued to grow until we became largest asphalt trucking company in the state of Utah. Over that time Mark diversified his trucking company to make sure he could always provide work for his truck drivers when construction wasn't in season. Now Double D has 38+ trucks, 80+ trailers, and 40+ employees.
Double D specializes in trucking hot liquid asphalt and asphalt emulsions but also hauls: crude oil, flatbed, dry van, refrigerated freight, milk, and heavy equipment. You can learn more about what we do by checking out our TRUCKING SERVICES.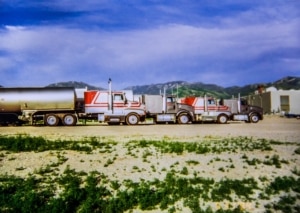 BECOME PART OF DD HISTORY
Truck Drive With Us
What is your history? And what do you want to be in your journal of life? We are positive at Double D you will add to your life's story and you will continue to grow as a person and as citizen. Click now to begin the process!